Learn more about translation for the fashion industry:
Fashion is one of the most dynamic industries. Here are some challenges fashion translation has to face:
Worldwide, we are producing more clothes than ever in history. The difference between now and 50 years ago is huge. The number of available products and collections seems overwhelming.

The development of new materials is accelerating.

Thanks to science, we find novel, creative ways of repurposing and recycling.

Mindful shopping becomes increasingly widespread – customers expect more details about collections, processes and manufacturing conditions.

Online shopping gathers momentum – both premium and popular brands sell more and more via e-commerce channels.
Our agency will help your brand face all these challenges and turn them into opportunities for your business to grow in new markets.

Fashion translation done by experts
No matter what text the client wants translated (product titles, descriptions, SEO, or blog content), the task is performed by linguists specialising in fashion translation. We work with true professionals who know the industry's terminology inside out. Thanks to them, we maintain high quality despite the rapidly changing catalogues of products.
Because of tight deadlines and strict optimisation requirements, we only work with experts. That way we can be sure that each term, be it related to a type of heel or a buckle design, is translated for the purposes of its target market and sounds natural.
Our language services for the fashion industry
Fashion translation: an experience-based process
When translating fashion-related product content, we use our own reliable process. Thanks to it, we can achieve the highest possible quality and consistency, as well as cost efficiency.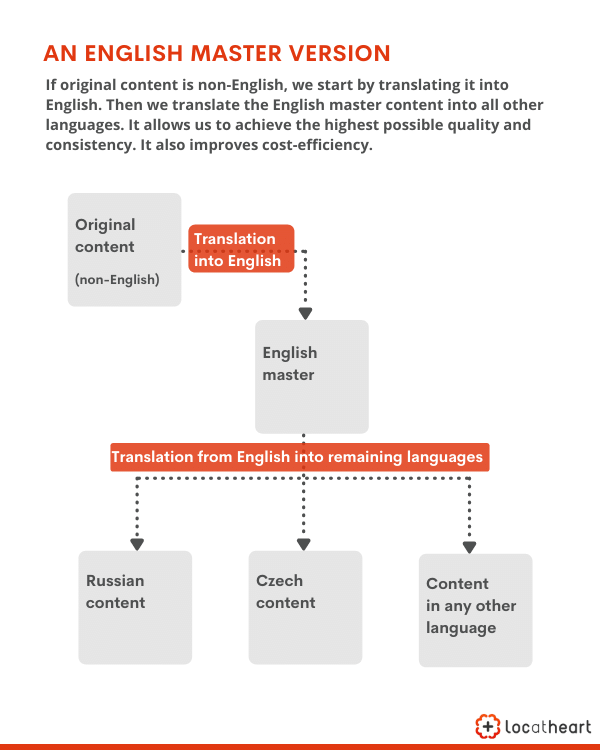 If the original content is non-English, we start by translating it into English. Then we translate the English master into all other languages.
Content consistency and terminology management in fashion translation
Translation memories help save on translation costs. Still, maintaining translation consistency in any fashion-related content is a tough challenge. New trends emerge, while older ones are updated and renamed. It is crucial to prepare clear style guides and glossaries. They help linguists create content consistent with the current tendencies and the brand's hallmarks. Control the use of synonyms in your content. Track the latest shifts in style and preferences, and include them in your glossaries. It's especially true when your business needs SEO.
E-commerce is all about searching. Up-to-date vocabulary is a must if you want to win over new customers. Maintaining consistency improves the efficiency of online ads and reduces the cost of SEM. Have a look at our article on multilingual SEO to learn more.
Copywriting and transcreation for fashion brands
How to keep up with customers who search for ever newer things?
Translation isn't always enough, which is why we also offer professional multilingual copywriting and transcreation services. They allow for efficient adjustment of communication to the new market's character and trends. Therefore, they often prove indispensable during the creation of new language versions of newsletters and website content.
In the fashion industry, quick shipment and easy returns are the key
People want easy payment and shipment terms. Customer-friendly returns policy is nowadays the standard. Such rules must be clear and understandable, as well as tailored to a given market. When translating or transcreating terms & conditions or legal notes, always bear in mind that local regulators may impose additional requirements related to data protection or payments.
Our fashion translation services are best suited for:
fashion brands (clothing, footwear, etc.);

e-commerce agencies, marketplace-managing agencies;

multi-brand online shops;

content and marketing agencies.
We provide services for agencies and direct customers, including departments in such areas as e-commerce, sales support, marketing, product development and product export.
Our project managers, translators and copywriters who specialise in fashion are waiting for you. What's your goal?