How we helped the largest board game manufacturer in Poland enter the mobile game market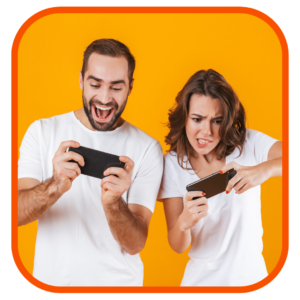 Almost since its establishment, locatheart has been working with one of the largest game manufacturers in Poland known for its jigsaw puzzles, board games and card games.
In 2023, the company decided to expand its product range to include mobile games.
Challenges and objectives
The newly established mobile game department faced the challenge of delivering a game that was accessible to players in 9 language versions:
Years of trust-building and our extensive experience in mobile game localisation positioned locatheart as the obvious partner for our client's expansion into the world of mobile gaming.
Step 1: Preparation of base files
We started by processing and preparing all the necessary files.
We received the following files from our client:
screenshots showing the game's UI,
The files we received had content in Polish and English, but there were no reference materials to explain the context and functions of particular segments.
At that stage, we stayed in touch with the client to dispel any doubts and to make sure that the project files were complete and contained all the necessary information before they went to our translators.
There were some minor errors in the source materials, including inconsistencies in terminology used (e.g. the words KIT and SET used for the same group of items), which were caught by our team.
In collaboration with the client, we prepared:
a PDF file with the UI described and screenshots of the game;
a publicly available, anonymous

query sheet

, which allowed us to significantly streamline and speed up the translation process.
All of the above information and guidelines received from the client were compiled into one file and passed on to the linguists.
Step 2: Selection of the right linguists
Once the project was localisation-ready, we ensured it was assigned to our seasoned translators with a wealth of experience in mobile game localisation, guaranteeing top-tier content quality.
Our commitment to ongoing assessment and our ever-growing pool of linguists enable us to meticulously handpick individuals who excel not only as skilled translators in their native languages, but also as industry specialists. For this particular project, we made sure they were also avid mobile game enthusiasts.
Step 3: Carrying out the project
The combined expertise of our project managers and linguists enabled us to complete the project in under 3 business days, from the initial client order to the delivery of finished files in 9 different languages.
The swift execution of the project and the provision of high-quality content empowered our client to efficiently launch a fully localised game in 9 language versions. This expansion has been significantly broadening the game's potential audience on the App Store and Google Play platforms from day one, which, in turn, led to substantial profits and a positive ROI for the game's development.