Customer self-service in the digital age, or how to keep customers by making them happy
Anna Żbikowska
Nowadays, digital self-service is more than just a tip of the hat to your customers. It is part of the company's ecosystem and its ticket to acquiring satisfied users and having them come back for more.
Above all, self-service is expected by millennials who tend to avoid verbal contact like the plague. According to Harvard Business Review, as many as 8 out of 10 respondents prefer to find a solution to a problem on their own before reaching out to a company representative. With all this in mind, it is worth knowing the answers to the following questions:
What is digital self-service?

What elements make up effective and efficient self-help resources?

Which traps should you avoid? On language accuracy and consistency.
What is digital self-service?
Digital self-service is all about providing your customers with the means to solve problems on their own, without having to contact a company representative personally (i.e., without the so-called human factor). Self-service usually takes the form of:
a FAQ (Frequently Asked Questions) section,

a dedicated keyword search option on the company's website,

a database or help centre,

a discussion forum.
With the help of such tools, the user can obtain the most important information about a given product or service. The information should be detailed and comprehensive, and it should dispel any doubts that your customers may have. There are many benefits of implementing self-service options – the most important one, perhaps, is that they make a lot of things easier for both the user – who has access to all the necessary resources at any time of day or night – and the company – which ultimately saves the money it would have to spend on a customer service team's salary. By implementing digital self-service technologies, you can have some of the members of your customer service team work on more complex and time-consuming tasks.
What do customers expect from self-service?
(Un)fortunately, the prosperity of the e-commerce industry and the ever-progressing digitalisation of the world have turned us into demanding and quite capricious users. If a website does not meet our expectations, we get discouraged very easily and no longer wish to browse it. What customers care about most is quick response time, and with self-service, different time zones or working hours of support teams cease to be a problem. On top of that, we have all found ourselves in a situation when during a phone conversation with a customer service representative it became very clear that the person in question did not have enough knowledge to solve our problem, or they behaved in a not-very-polite manner. We keep such memories in the back of our minds, and this in turn discourages us from reaching for the phone whenever we encounter an obstacle. Equally important to customers are also consistency across all communication channels, factual and straightforward messaging, as well as intuitive and user-friendly site navigation.
Customer self-service: What to take care of?
1. A picture is worth more than a thousand words
Keep in mind that a help centre or a FAQ section do not consist of text only. Arguably, the fastest way to learn new information is through infographics or videos. That is why it is worth enriching your content with screenshots or short tutorials in video form.
This is how we introduce our translation process to clients at locatheart.
2. Make sure your search engine is efficient
There is probably nothing that irritates users more than a search engine that fails to provide the expected answers. In order to improve its job and narrow down the list of results, think about introducing tags which will serve as links to texts concerning similar subject matters.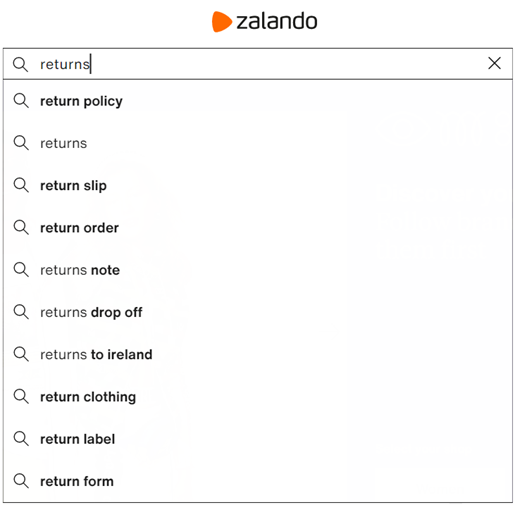 This is what the Zalando search engine shows you when you type in 'returns.' After confirming your query, the site provides you with a complete list of articles related to the return of products – you can find everything from the procedure itself through the costs of returns to possible obstacles (such as the lack of certain documents or problems with the courier).
3. The way to a customer's heart is through content and translation
You are free to create various content: high-quality graphics, helpful tutorials, detailed process descriptions, etc. However, all this effort will be wasted if you neglect the language layer. Let me remind you that the most important factor of customer self-service is effectiveness. To achieve it, you need specific yet simple language, as well as consistent cross-channel messaging. No flowery metaphors and long introductions. No ambiguity. The best people for this job are experienced editors, copywriters and translators. It is worth investing in language services and/or cooperating with a translation agency that will prepare all the necessary text versions for you.
74% of respondents are more likely to make another purchase
if they are offered after-sales services in their native language
Digital self-service: Which traps are easy to fall into?
Remember that maintaining adequate self-help resources is a never-ending project that needs to be constantly updated and supplemented with new content. If you plan on expanding certain sections with additional articles, you should not underestimate this task and instead, you ought to turn to an expert. The best option is inviting a trusted translation agency to work with you on a regular basis to maintain consistency. Unless, of course, the texts you received in the past did not meet your expectations – in that case, you had better look for another company, asking for an audit and a revision.
2. Lack of consistency leads to logical errors and contradictions
Inconsistent usage of the same expressions may lead to consternation – and eventually, resentment – from a user browsing your website. It might turn out that a given keyword has been translated in different ways in different texts, which is why the customer might start doubting whether they are still reading about the same thing. This also concerns outdated information that describes a discontinued product that may have found its way into one of the paragraphs. From there on, it does not take much to leave the page and cross your company off the list of trusted suppliers.
3. Incomplete brief for a linguistic services agency
As an employee of a given company, you know all its services and processes by heart, which is why putting yourself in the shoes of someone who is 'not in the know' may prove troublesome (this phenomenon even has a name – it is called 'the curse of knowledge'). Sometimes, when you order a translation, you forget to provide comprehensive guidelines. What are the risks of an incomplete brief?
The person creating or translating your content (including the most brilliant linguist you have ever worked with) may unknowingly make a mistake that will cost them their reputation and in turn, you may lose a client.

The linguistic team will strive to resolve any ambiguities, contacting you regularly for additional information. The process of exchanging messages back and forth can make it difficult to meet your deadline.
Therefore, be sure to take the time to prepare detailed guidelines and a list of requirements. Sometimes, it is enough to write down the most important thoughts, attach the necessary reference materials (e.g. system access instructions, screenshots, detailed descriptions of the software). You may also consider preparing a style guide for authors with future orders in mind.
Digital customer self-service: A profitable investment
The statistics speak for themselves – today's customers want to use self-help resources, as for many of them interacting with a customer service team is a necessary evil. What users care about most is efficient problem solving – they expect comprehensive yet unambiguous content in their native language. Your role is therefore to:
create diverse and efficient content to support online customer self-service;

commission the creation, editing, and translation of content to professionals.
At locatheart, we are happy to take on this challenge for you. Feel free to reach out to us!
Sources
DePalma D., Stewart R., Hegde V. 'Can't Read, Won't Buy: How Translation Affects the Web Customer Experience and E-Commerce Growth' (21 Feb. 2014), https://insights.csa-research.com/reportaction/8057/Marketing, accessed 9 Nov. 2021.
Dixon M., Ponomareff L., Turner S., DeLisi R., 'Kick-Ass Customer Service', Harvard Business Review (January–February 2017), pp. 110–117, online version: https://hbr.org/2017/01/kick-ass-customer-service, accessed 9 Nov. 2021.