ForeVR With Localization at Heart
Mikołaj Gołębiewski
At locatheart, we collaborate with clients from many different industries – from cinema and television through fashion to video gaming (among many, many others). We are also proud to always adjust our mode of work to the particular client, and in case of game localization, we have developed a localisation process with agile elements with one of our partners.
While most of our work focuses on mobile game translations, we enjoy a great cooperation with a developer that specialises in VR gaming – ForeVR Games operating out of Los Angeles, California. Its portfolio includes ForeVR Bowl and ForeVR Darts – both being sport simulators with big multiplayer focus.
Wibbly-Wobbly Timey-Wimey – or working around the clock
As mentioned, the ForeVR team works on the West Coast of the United States – while LAH has its headquarters in Gdańsk, Poland. So how do we manage to overcome the time zone issue resulting in a nine hours' difference between our offices (which is more than a working day!)?

The client sends us new projects during their working hours.

With many projects (under a certain price threshold) ForeVR doesn't need to accept price calculation so that we can start working on them in the morning on the next day. Due to that, the client's instructions need to be as precise as possible, so that we avoid unnecessary email ping-pong. When it comes to projects above the price threshold, we provide the client with a quotation and wait for it to be accepted. In both cases, because we have relevant arrangements in place, we know how to proceed and what steps to take.

We use online Google Sheets to provide linguists with a means to exchange queries with the client. When for example a Polish translator finishes her job at noon on Tuesday (Polish time) and leaves a question in the form, the reviewer usually has ready answers on his Wednesday morning (as ForeVR provided them during their working hours – our night – on Tuesday).

Not only are both companies located on two different continents – our linguists who create localised content for the games are also scattered around the globe. They live in countries where their mother tongue is widely spoken, as LAH puts particular emphasis on translators', reviewers' and copywriters' being accustomed with the latest developments of the language as well as with its cultural background.
We provide translation into 20 different languages (24 if you include regional variants!), as well as edit original American English copy into a British version. With the whole team located across different time zones, it's quite a challenge to oversee the process and see to its effectiveness. Still, thanks to mutual trust and being certain of our linguists' skills, we are able to carry out short projects in as little time as three days.
Naturally, the way we and ForeVR Games cooperate wasn't clear-cut from day one! Both parties had their own best practices which they employed in different situations. There was, therefore, a need to meet somewhere in between and agree on the most important aspects. Our team held numerous discussions via email and calls with representatives of ForeVR and together, they decided on common principles that are still being perfected with each project.
An example of mutual arrangements is an expanded order confirmation system. Apart from emails containing necessary project information, we also use a file log in the form of a spreadsheet. There, all information is included regarding who and when sent a particular file (and for which game). On our part, we provide the task's wordcount and the estimated deadline. All people responsible for the translation process can then easily tell what the current stage of work is.

VR localisation – day-to-day practice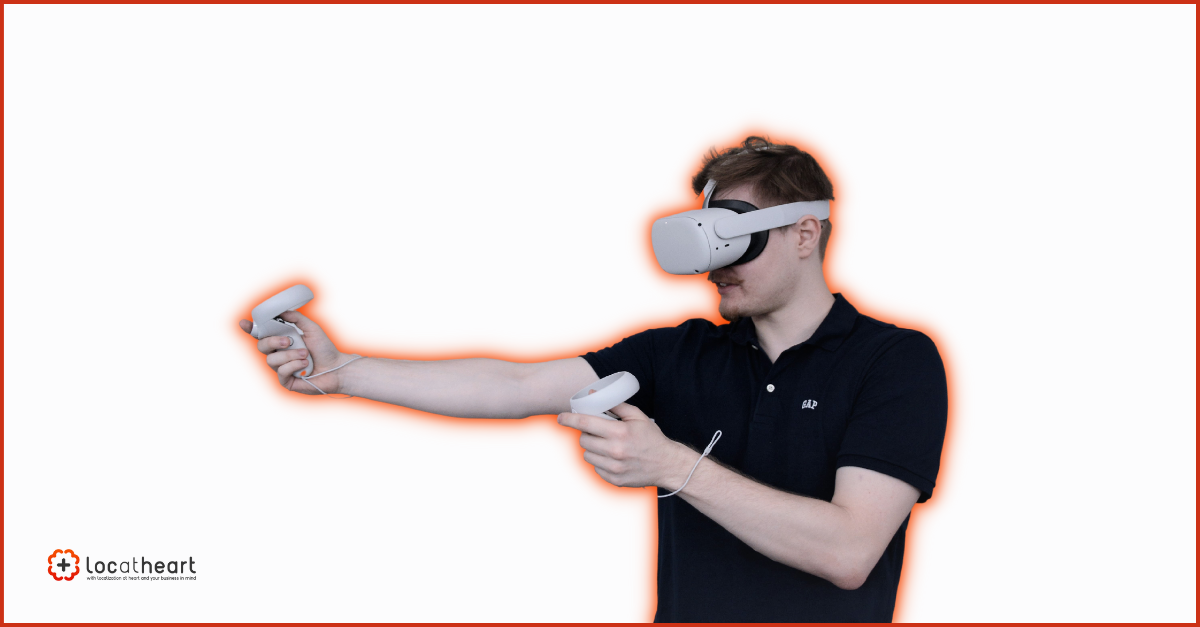 When it comes to linguistics, rather than logistics, the beginnings were demanding as well. As ForeVR's products are available for Oculus Quest and Oculus (Meta) Quest 2 VR headsets, it's important to always use the official terminology for these products.
Since translations available online were inconsistent, we decided to purchase our own headset to verify local versions of UI elements, game options, etc. We dedicated a lot of time and went the extra mile to manually check each word or phrase in all languages in question. After we took screenshots, our linguists wrote down the terms that we then added to our glossary. The whole undertaking was totally worth it! Thanks to that, we're now certain that we use officially approved vocabulary in each of the locales. We also have gathered a team of experienced PMs, translators and reviewers who know how to deal with VR translation projects.
As for the glossary, we have developed it based on our experience with earlier gaming projects. It ensures that all main terms are always used consistently across projects. We attach glossary files to tasks that we send to linguists (alongside with a translation memory, which also helps keep consistency) so that there is no need to look for them elsewhere and lose precious time. Nevertheless, for situations where technical issues arise, we also keep the glossary online in Google Sheets.
What definitely made the whole ForeVR–LAH endeavor much easier was the fact that our team was entrusted with localisation from the very beginning – no other company worked on translations before, so we had more creative freedom (all within a "true-to-the-source" axiom that we uphold to). With everything under our care, we are able to oversee the whole process without leaving any room for uncertainties that could be caused by a joint undertaking. We strived to develop a collaboration that is tailor-made for the client, and so all processes and solutions were (and are being) tested and shaped in a way that is the most convenient for ForeVR Games.