Content marketing for the beauty industry – market analysis and practical tips
Anna Żbikowska
Contrary to what one might expect, successful perfume or cosmetic marketing requires something more than just a stunning photo session or an ingenious spot commercial. Every visual element must have a corresponding linguistic element, a tour de force of words. Why? The year 2020 has transformed consumer preferences. There has been a shift towards online shopping. In the beauty industry, too. Because of this, marketing campaigns have to be even more refined and well-thought-of.
Lipstick effect evolution
At the turn of the century, Leonard Lauder, the then-CEO of a major cosmetics company Estée Lauder, observed a phenomenon that he named 'the lipstick effect'. The said phenomenon was a response to the recession that was holding the United Sates in its firm grip. Lauder noticed that in the face of an economic crisis people started to refrain from buying expensive luxurious goods (like cars or real estate assets) and instead turned to premium quality products of lesser value (like electronics, groceries or cosmetics). In particular – lipsticks.
With the arrival of the global pandemic, this trend has been reversed and redefined. The beauty industry has undergone a major change, and the biggest sales drop has been reported in… you've guessed it – lip cosmetics.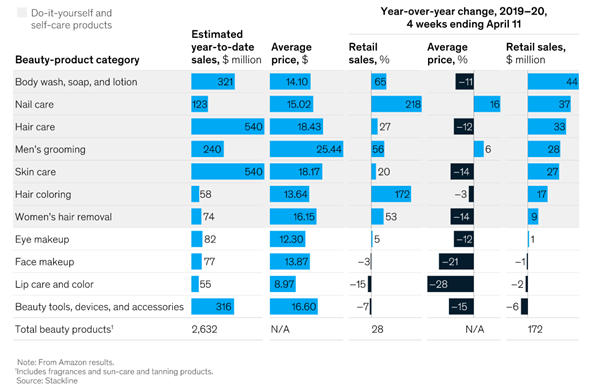 Current top dogs and underdogs of the beauty industry
Beauty supply stores and beauty salons were forced to close because of the pandemic. Subsequently, self-care items have gained importance. We're more likely to choose hair, nail, skin or body care products.
Make-up cosmetics are reported to have declined in popularity. Apart from lipsticks mentioned above, we are less likely to buy foundation creams, face powders or concealers. The effects they produce remain invisible under  masks.
What is visible, though, is the potential of marketing related to eye make-up products. If – because of the masks – only the upper part of one's face can be seen, why not experiment a bit to find a way to make our current harsh reality a tad more colourful?
New online habits of beauty product consumers
That's not all that has changed. The speed of growth of the e-commerce industry in the wake of the COVID-19 pandemic has been simply insane. Many companies have moved their operations to the internet, which has resulted in an influx of… new customers. The migration of older customers from the offline world to the online one could have caused a communication gap. If you notice an increased traffic on your website among older users, inspect whether it leads to an increased conversion rate. If the out-turn is not satisfactory, make sure your services meet the needs of all of your user groups.
To make up for the losses inflicted by the closures of brick-and-mortar stores, cosmetic brands are now looking for new ways to reach and create a bond with customers through multiple channels online (user engagement). Each day brings new initiatives, tutorials, guides and live transmissions that are supposed to engage the community (like the Mac Crew initiative or the "Courage Is Beautiful" Dove campaign).
Ads' viewing times and device-related preferences have also changed. Nowadays, increased traffic can be observed in the late night hours (not at lunchtime). Working from home and the lack of daily commute have resulted in a reduced reliance on phones for shopping, with greater preference for home computers.
What to keep in mind when commissioning content creation
First and foremost – be mindful of the 'curse of knowledge'. Let's say you and your team have spent long hours on developing a marketing strategy to promote a given beauty product. You know all there is to know about it, the vision of the campaign comes back to you in your dreams. By contrast, the translator (or the copywriter) encounters the product for the first time. How can you make the job of a wordsmith easier and help them meet your requirements?
Attach promo materials – spot commercials, packshots, banners, social media graphics. All reference materials that can help with getting the vibe of your marketing campaign, understanding the philosophy behind it and its target group, as well as choosing the appropriate language of communication.
It's one thing to promote an aftershave for A STRONG, CONFIDENT MAN that TAKES UP CHALLENGES day after day. It's another thing to reach to AN INDEPENDENT WOMAN who wants to feel CAREFREE and SENSUAL while succeeding time and time again.
Send information about the brand itself – it can be a brand book or a style guide. The most helpful would be the latter – use it to describe the style of your company, including language register, word connotations or repeated phrases (I'm sure you're familiar with slogans like 'Get the London Look'). A properly composed style guide should also include a list of phrases that are (or aren't) applicable to a given brand. Example:
available for everyone
promoting natural looks
subtle
made for progressive, open-minded people, with no gender bias
encouraging to experiment, to be original
available for a select few
promoting fake looks
dramatic
trying to reinforce harmful stereotypes, with gender bias
encouraging to swim with the tide, to hide emotions
Capturing the elusive, or how to advertise perfumes
How can you persuade customers to buy your perfumes when they can't smell them? Companies have different techniques at their disposal. Here are some of them:
Bottega Veneta – Illusione
This spot is dripping (literally and figuratively) with sensuality and the carefree vibe of summer days. How to stimulate customers' senses? We have to allude to the spot itself ('hot summer days') and convey its sensual character through vivid and dynamic expressions. We can use a picturesque metaphor, 'heat between two elements', that refers to the characters in the spot.
Surrender to the bliss of hot summer days
The untamed heat between two elements
In a place between reality and dreams
---
Gucci – Mémoire d'une Odeur
Here the Gucci brand combined two popular and effective strategies. For their campaign, they hired a renowned singer Harry Styles and evoked an atmosphere of nostalgia for the 1960s, with hippie-style freedom vibe as the leitmotif of the ad.
Myriad memories captured in a vintage bottle
A bridge between the past, the present, and the mysterious future
Transcendental harmony where all genders are equal
---
In this case, a picturesque metaphor also plays an important role. Yet another component is shrouding the text in mystery. It's worthwhile to mention the unique characteristics of the product that make it stand out from the others. When it comes to Gucci perfumes, that would be their unisex fragrance.
A modern campaign based on the brand's traditions and history; in other words: life as a sports metaphor.
Feel the attraction
What if you're playing the game of your life right now
Surrender to your destiny
With Match Point perfumes from Lacoste, the city will become your playground, and your life – a sport
---
The reader is being addressed here directly. Short imperative sentences make one think of an energetic game of tennis. It's yet another set of techniques that are worth using when creating marketing slogans.
The above-examples were inspired by projects commissioned by locatheart's regular clients.
The beauty industry – perfectionism at every step
Remember – visuals alone are not enough. The written word is an equally important marketing weapon. Usually both elements accompany each other. Make sure that the brand's image is always consistent and that the quality is always high – regardless of methods or channels of communication. If you're spending hefty sums on influencer marketing or on a salary for a star, why not allocate some funds to professional services of content marketing specialists?
Sources:
Gerstell E., Marchessou S., Schmidt J., Spagnuolo E., 'How COVID-19 Is Changing the World of Beauty, McKinsey & Company' (5 May 2020), https://www.mckinsey.com/industries/consumer-packaged-goods/our-insights/how-covid-19-is-changing-the-world-of-beauty, accessed 20 Feb. 2021.
Szarf D., 'Branża beauty w social media – o taktykach marketingowych, które musisz znać', Brand24 (26 Jul. 2019), https://brand24.pl/blog/branza-beauty-w-social-media-czyli-o-taktykach-marketingowych-ktore-musisz-znac/, accessed 20 Feb. 2021.
Szczepanik W., 'Efekt szminki zredefiniowany przez COVID-19', NowyMarketing (2 Jul. 2020), https://nowymarketing.pl/a/26933,efekt-szminki-zredefiniowany-przez-covid-19, accessed 20 Feb. 2021.