Korean E-Commerce Market: 3 Reasons To Enter
Anna Żbikowska
Do you wish to increase the visibility of your products and introduce them in other markets? Are you searching for new recipients and advertisement strategies? Do you plan on growing your business but would rather prefer to avoid drowning in the already saturated mainstream? Well… how about South Korea? Is there a method in this madness? In this article, we'll try to convince you of the limitless potential hidden in the Korean e-commerce market.
1. The Korean e-commerce market is ranked amongst the largest ones in the world
This might not exactly come off as a surprise, at least not until we take note of one "tiny" detail: when it comes to e-commerce, South Korea – with its 51 million residents – goes hand in hand with the United States boasting an over six times larger population!
And it truly is no mean feat, especially if we consider Korean history. This Asian country set out on the path to democracy only in the late 1980s, and it went through the phase of accelerated economic growth between 1960 and 1990. Earlier, it fought for its independence with two neighbouring empires: China and Japan.
According to the estimates provided by Statista, in 2020, as many as 92% of Koreans used the internet. By comparison – the result for Poles was 81%.
Still need more data testifying to Koreans' love for online shopping? Be our guest:
Over 50% of Koreans aged 60 or above actively use the internet.
In the United States, the share of regular internet users in the same age group reaches merely 30%.
What follows, therefore, is that launching products in South Korea gives companies a golden opportunity to broaden their target audiences – exponentially. A product which populates a niche in the domestic market might just as well turn out to be a massive hit in Korea. It definitely would be worthwhile to look into the matter in greater detail.
2. There is a growing interest in foreign suppliers
From year to year, we observe a regular increase in the amount of money that Koreans leave in the bank accounts of foreign companies. Amongst the most "absorbent" industries are fashion and beauty. And even though venturing into the Korean e-commerce market requires an in-depth analysis (at Loc At Heart, we'll gladly support you throughout the process with our communication services such as preparing Korean key words, transcreating and translating content or creating copywriting guidelines etc.), if you put in just a little bit of effort, your products or services may be greeted with open arms and gain an extra distinguishing trait – the "premium" aura that frequently surrounds brands of a foreign origin.
Example: We'll now see how Ziaja, a Polish producer of cosmetics, fares on Gmarket, the largest and most popular e-commerce platform in South Korea. Once we enter the brand's name, we get over 1100 hits. What is the difference in price of the same product if we compare the domestic market against the foreign one? Let's look at the product from the very top of the list, an under-eye cream from the Kozie Mleko collection. On average, it costs PLN 6.5 in Poland, and PLN 10.4 on Gmarket.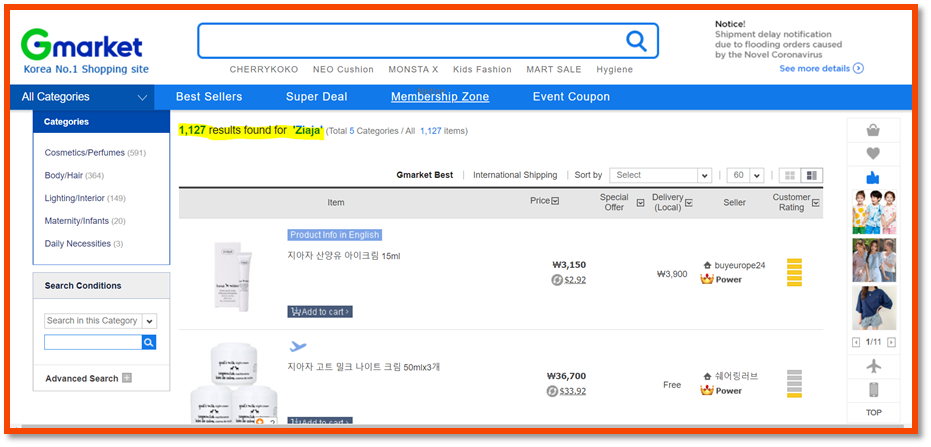 3. The Korean e-commerce market is governed by consumerist society
What offers dozens of benefits right from the get-go is the mere nature of consumers' shopping habits. Koreans are not loyal to any specific brands, and demonstrate an openness towards change and experimenting. Companies have to regularly refresh their image to keep up with the rapidly developing market and uphold customers' interest – hence frequent modifications to packagings and launches of new product lines.
Demanding yet profitable process
It's certainly more difficult to enter the Korean e-commerce market than its European counterparts. The whole process calls for thorough preparations and an in-depth market analysis, including – but not limited to – consumer behaviour, guidelines related to commercial communication, most efficient marketing strategies and specific SEO requirements. The venture is, however, highly lucrative. The Korean market is fairly receptive, open to everything new. It is still far from being overfilled with foreign brands. It can generate a "wow" effect that – more often than not – is downright unachievable in the markets closest to our own.