Selling Cosmetics to Koreans
Anna Żbikowska
Koreans, cosmetics and beauty culture
South Korean cosmetics and beauty routine are the hippest part of the Korean wave, or hallyu. K-beauty is a vast term that includes skincare and makeup. Statistics don't lie – in 2018 South Korea became the fifth country in the world with the largest revenue from skincare products.
Koreans take skincare to a unique level – to them it is part of deep-rooted cultural heritage.
Do you want to enter the South Korean beauty market? Read out market insights below.
Korean society
What's the best sales channel? Korea is one of the top countries with the highest per capita phone use. No wonder then that the popularity of mobile commerce is rapidly growing. However, around 75% of online shopping is still carried out via computers. To purchase imported goods (including cosmetics and skincare products), Koreans often use online shopping malls (온라인 쇼핑몰) which provide a rich offer and convenient delivery terms.
What to sell? Koreans are admired for their natural and youthful appearance for a reason. They achieve an effortless look by following, among others, the no-makeup makeup trend. Let us look at an example keyword comparison: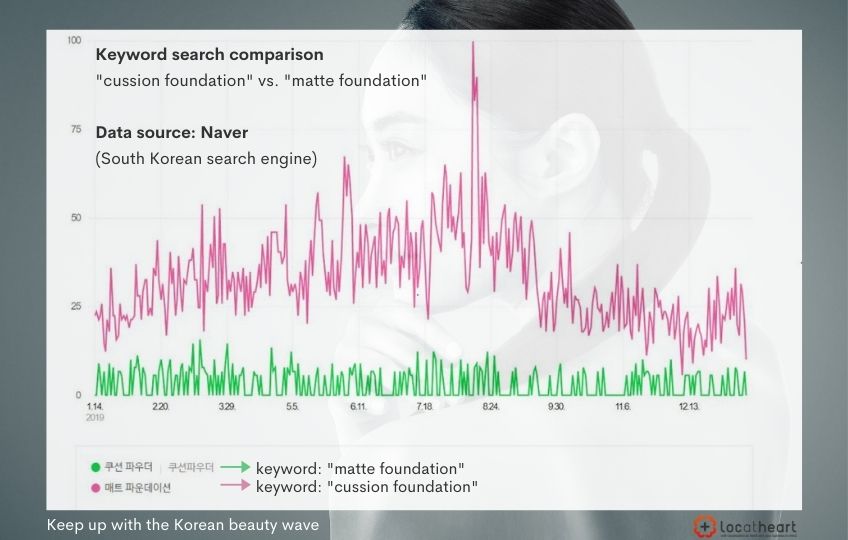 The diagram represents the popularity of two key words:
The pink line is for "cushion foundation" – this foundation is characterized by its lightweight formula which enables buildable coverage and works well when creating a natural look.
The green line shows "matte foundation" which provides full coverage and may dull the natural healthy glow of your skin.
As this example shows, while planning a sales pitch dedicated to Korean audiences, consider limiting products which provide full coverage and go for a cushion compact foundation instead.
Recently, hair care products have made their way into the mainstream. Natural hair care products, which up until now have remained a niche-market option, are now a desired item. Koreans increasingly opt for natural ingredients – silicone- and paraben-free. They don't mind paying more to provide their hair with top-notch care. Analysts from GlobalDare predict that demand for hair care products will be steadily increasing (calculations for 2018–2023). Maybe your brand will fill that market gap?
Korean consumers of beauty products
Imagine an average Korean consumer. It's tricky, as Korean beauty culture concerns everyone – both men and women, regardless of their age. Here, no one frowns upon a famous singer or celebrity advertising a lip tint. Men are as eager as women to pamper their skin.
Therefore, smaller brands which target their offer to a narrowly selected audience have a chance to succeed. Larger brands, on the other hand, have to filter their products and communication strategy.
Communicate facts, focus on ingreedients
Korean parents introduce their children into the secrets of skincare extremely early, teaching their offspring to identify what their skin's needs are. This way, they can easily judge which products are suitable for them. How do you create well-tailored content then? Give up on pompous and cliché language. Empty phrases won't encourage anyone to finalise a purchase, nor will they divert attention from a product's (in)efficiency. Korean content has to be ingredient-oriented and factually flawless.
Content and packaging for the Korean market
Korean customers want to have it all – beautiful packaging and rich content. Korean brands can change the graphic design of their products every few years just to lure a customer and refresh their brand image. Korean companies are prone to draw inspiration from pop culture and they often launch products with iconic cartoon characters (for example, the KakaoTalk application mascot animals).
Koreans like to experiment with beauty products
As brands are constantly fighting to win customers over, Koreans become more and more spoiled. They don't get attached to brands. In their eagerness for skincare novelties and their courage to experiment they for both domestic and foreign products. According to data revealed by Korea Cosmetic Association, the import of beauty products increased by 8.9% in the years 2014–2017.
Giant companies try to dominate the Korean market, but consumers also make space for smaller players. Some non-Korean brands fighting in the Korean cosmetics market are:
Omorovicza (Hungary)
René Futerer (France)
Geomar (Italy)
Malu Wilz (Germany)
Kamill (Germany)
Ziaja (Poland)
Bobini (Poland)
The Korean beauty market is still rapidly-changing. A successful beginning doesn't guarantee a prosperous future, whereas an unknown brand can still reach spectacular sales results. Korea is a challenge worth  taking.
Author: Anna Żbikowska