Translate your business for new markets like a pro. Part 2
Mikołaj Gołębiewski
You already know how to decide which texts should be localised and where to look for a high-quality translation service provider. Let's say you narrowed down your choices to 3 translation agencies. What's next? Read the second part of our guide to learn how to decipher translation price lists and pick the best one. Find out what language audits and economies of scale are. Let's begin!
How to calculate translation service rates?
Already at first glance, the rate based on the source text looks more beneficial. In this case, you know the service cost from the very beginning and there's virtually no risk of the price changing if the target text turns out to be longer. Relying on a "standard page", on the other hand, may cause some confusion. Should we count 1,900 characters as 1.06 of the standard page or as 2 standard pages (since we've already started working on the second page)? At locatheart, we calculate standard translation cost based on the word count of the source text.
Note! Calculating the translation rate based on the actual page size (e.g. x pages of the A4 size) is not a common practice!
What are CAT tools and how do they work?
Nowadays, CAT tools (i.e., computer-assisted translation tools) are the basic functionality for any translation domain, except for the literary translation. First of all, CAT tools facilitate the work of a translator due to translation memory. It's a repository of previously translated texts that suggests new translations, provides necessary context and makes the whole process smoother. Thanks to CAT tools, we can also specify the scope of work and actual costs in a more accurate manner. Note! If you order a translation service, you have the right to know the exact rate per word!
Contemporary CAT tools can match new sentences with sentences from the translation memory even if the two entries are not identical. Let's say we've translated a sentence "This is a dog" before. Now, we're working on a new project which includes an excerpt "This is John's dog". The CAT tool measures the level of similarity and suggests the partially matching sentence translated earlier. What the translator has to do now is to add information about the dog's owner.
Calculating translation costs based on Trados
Now, how does it relate to the translation cost itself? It's pretty straightforward. Let's have a look at the exemplary model based on Trados (the most popular CAT tool) and its calculations: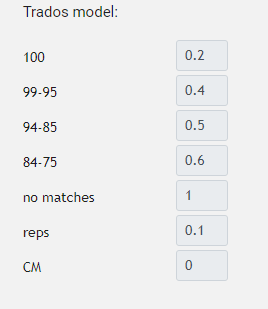 What do these numbers mean?
Numbers on the left side specify the percentage level of translation matches based on the existing translation memory.
"No matches"

stands for fragments which do not resemble any other texts translated before (or their match rate is below 75% – of course, we may change and adapt that value).

"

Reps"

are repetitions within a given text (if an identical excerpt appears more than once).

 "

CM"

(context match) – two identical segments appear in a row.
Numbers on the right side indicate the calculation rate. If the basic rate per word in the EN > PL language pair is €0.3, it means that you will pay that price for new words only, i.e., such fragments that appear in the text once and have no matches in the translation memory. Let's assume that your text consists of 500 words, 300 of which are completely new fragments, 100 are reps, the next 50 words are 100% context matches and the last 50 words are 95% matches. Here's how we calculate the translation rate:
300 × €0.3 + 100 × 0.1 × €0.3 + 50 ×  0.2 ×  €0.3 + 50 ×  0.4 ×  €0.3 = €102   
That's why if we choose a business partner who doesn't acknowledge different levels of similarity and doesn't use translation memories, the service rate increases up to 500 × €0.3 = €150.
Fortunately, by using modern calculation methods we can save up to 32%. As you can see, even if two translation agencies charge you per word of the source text, the effective rates may vary significantly.
In the conclusion of this section, it's worth noting that similar segments appearing within the same text are also rated on the basis of the aforementioned method. Therefore, if your translation memory is still empty and you're translating a text "This is a dog. This is John's dog", you will be charged less for the second sentence! At locatheart, we employ this calculation method. To find out more, read our guide "Translation Agency. Why Do I Need It? How Do I Use It?" and check out our knowledge base.
Why is long-term cooperation with a translation agency beneficial?
Do you remember how we mentioned that if you choose one particular translation agency, the translation cost is going to decrease over time? Now you know why. The more you order, the more probable it is that subsequent texts will be of some similarity and – therefore – respectively cheaper. You can read more about it in our article about economies of scale. Explore it to see how you can benefit from long-term cooperation. Do you wonder about ROI in terms of translation? We've tackled this issue here. 
As for the manner of settling localisation projects, we mostly rely on order confirmations. We simply present all relevant calculations in a reply to your query and wait for project confirmation from you. This way you have all the necessary data gathered in one place. 
How to order a translation service?
Once you gain some insight into offers of various translation providers and choose the one that suits you best, it's time to place an order. To make cooperation run more smoothly and effortlessly, include essential information about the project. It will save you from any unclarity. 
Define the language pair(s).

Specify the text length (for example by giving the number of words). If you're struggling to estimate it, attach the source text and ask your provider for the calculation.

Suggest a deadline.

Provide all necessary information that may help prepare a high-quality translation: context (where will the text appear?), any special guidelines, brand books, glossaries, etc. If you've already created similar texts, send them over as a reference.
You can include that information in the form of this handy brief.
How to ensure the best quality translation?
Let's say you've chosen your language service provider. You do care for a high-quality outcome, especially if you're considering long-term cooperation. Bear in mind that this chosen provider (for instance: a translation agency) is going to build your brand image for new clients. The question is: are you able to verify translation quality? Yes – with language quality audits.
What is a language quality audit?
Language audits enable us to verify if a translated text is correct and meets our expectations. They usually rely on random quality control (LQA) performed by a specialist independent of the translation service provider. It may be either a freelancer or a company. Obviously, in the latter case, the audit is conducted by a specialist too.
Localised content is inspected in terms of compliance (mistranslations), grammar, punctuation and style. Then, based on this analysis, a language specialist creates a report which contains a list of errors, comments and suggested changes. Obviously, the original content creator should be given a chance to explain all those issues. Sometimes it happens that particular linguistic decisions stem from additional arrangements between the client and the agency, thus the verifying person might not be aware of them.
If the audit reveals glaring errors which cannot be justified, you may order a more extensive audit which covers more content. Worst-case scenario – you'd have to order a translation service once again.
Don't worry though, it happens very rarely. Usually, audits serve as a tool enabling us to check if the cooperation runs smoothly, whereas any minor suggestions may help us understand the client's requirements and carry out the project even more efficiently.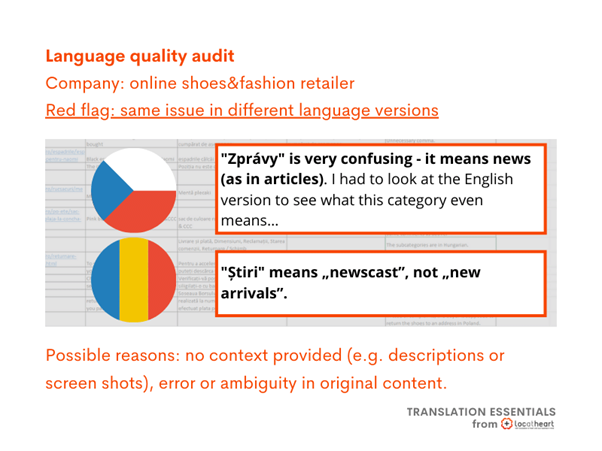 At locatheart, we may conduct a language quality audit, upon client's request, and share thorough reports with our analysis. All audits are performed by our experienced language experts who work as editors, proofreaders and translators.
Summary – how to get ready for cooperation with a language partner?
Let's sum up all the steps you need to take if you're planning to enter new markets and need to localise your content:
content selection,

choosing a translation service provider based on terms of cooperation (e.g. price list),

determining the scope of cooperation,

providing your agency with necessary instructions,

for long-term cooperation – verifying quality by performing audits.
As we've mentioned in the 1st article from this series, establishing efficient cooperation with language partners requires some time and patience. You have to prepare yourself for initial costs – which will then decrease thanks to economies of scale. Whether you want to enter new markets or simply need a translation service provider – reach out to us. At locatheart, your comfort is our top priority. We will be more than happy to support you at every stage of cooperation, as well as before establishing it.
If you are looking for professionals who can help you translate any kind of text, do not hesitate to contact us!