Translating an Online Store
Agnieszka Wąsowska
Translating an online store is a challenge – not only a linguistic one. By the time the first word becomes translated, you'll have made many decisions regarding products, markets, languages, target groups and more. Then, a team tasked with creating new language versions will take over.
Why translate an online store?
Over 66% of customers whose mother tongue is English won't make a purchase using a different language.

74% of Japanese customers think it's unlikely that they would shop online in a foreign language.

More than a half of people living in Czechia, Italy and Ireland buy products online only in their native language.

Keywords are the key
Think of the basics:
An online shop entering a new market relies on organic search results and search engine advertising.

Ads are cheaper when they match the content of the websites they lead to.

The algorithm measures content consistency by analysing the keyword compatibility.
Key takeaway:
Customers in different markets look for different things and formulate their queries in a different way. That is why a mere translation of the existing keywords won't do the trick. We know a lot about identifying keywords in new markets – click here to read an article covering this very topic.
Where to start when translating an online shop?
Listen to the users. Studies indicate that what they value in particular is a translation of:
navigation interface,

reviews.
Translation of a store's navigation is crucial because at this stage users don't see the products yet. They need to get to them, and want to know how.

With photos, it's easier for them to evaluate an item, while reviews can clear up their doubts. That's the other element that customers wish to see translated. 72% of cross-border customers want to read reviews in their own language.
What about product descriptions? Why aren't they mentioned?
That's probably because they're usually already translated (although not always well).
Translating product descriptions
A product page is a landing page, where the customer ends up after carrying out a search. Customers expect clear and attractive presentation of an item.
What should be included in the description:
specification (e.g. features, composition, size),

video,

reviews,

quotes,

maintenance and storage instructions,

examples of use (use cases).
Have these elements translated to increase sales opportunities and improve the product page's search engine ranking.
Translation of tags and category/subcategory names
Remember:

Accurate and coherent translation of tags, categories and subcategories allows for effective auto-recommendations, filtering and on-site searching.
Translation of privacy policies and terms & conditions
The scope of translating an online store includes the translation of:
the privacy policy,

the terms and conditions of payment,

the terms and conditions of returns,

other legal documents.
Oftentimes translation alone won't be enough, since a new market may be governed by completely different standards and rules (writing new versions from scratch in the target language or transcreation can solve this problem).
Articles and blogs & translation of an online store
The following types of content aid positioning the most and help redirect traffic to product subpages:
product comparisons,

extensive reviews (including videos),

how-tos,

checklists.
Translation of longer pieces of content from an online shop improves positioning and helps reach customers who are aware that they have a problem, but haven't yet decided what product (that will solve the said problem) they're looking for.

That is why new language versions of long-form content may prove very useful. When translation isn't enough, related services should help: multilingual copywriting and transcreation.
Translation of an online store's communications
This segment includes – first and foremost – a suitable translation of all messages that the customer receives as part of the purchase process, for example:
account setup confirmation,

password recovery,

payment and purchase terms confirmation.
Your online shop should be translated as fully and as accurately as possible, so that the shoppers feel secure.
Marketing communications of an online shop
What could and should be translated:
newsletter,

social media posts,

videos,

text messages,

chatbot messages.
Translation of an online store's customer support
When problems arise, precise communication is often the key. In customers' eyes, the way of dealing with such a situation is the acid test of a company's quality.
Thus, when you enter a new market, remember about:
good-quality support materials ("customer self-service"),

enabling direct contact in the local language (email support should suffice).
Combining a chatbox and corporate email that supports all languages is a relatively cheap and effective way to provide multilingual customer service. It helps if it's accompanied by a useful troubleshooting section (or at least an FAQ).
Translating an online store – not just the language
A professional translator takes into account different cultural elements, industry's terminology, as well as units of measurement, currency and size charts typical for the new market. Still, translation is only a part of localisation, which is an industry term for making your shop adjusted to the new market needs. Apart from linguistic aspects and adapting the assortment, it's also worth paying attention to:
payment methods preferred in the new market,

shipping methods preferred in the new market (as well as acceptable costs),

adjusting images and photos so that the customers may identify with the depicted people.
Technical side of translating an online store
How to do all this?
Start with the technology that your shop is based on. Most well-known platforms share their solutions. Some examples:
Shopify offers localised versions of its tool and enables exports and imports of content such as product descriptions.

Idosell also provides means to import and export texts and update language versions.

WordPress-based E-commerce may try out one of available plugins. A good example is WPML – it is very complex and allows for exports and imports, as well for translating, editing and the management of translation process and content updates from the WordPress dashboard.
There are several file formats used by various tools – for example .xliff, but also .xls, .po and more. We know these types by heart and can readily make a translation based on them.
If you have an original CMS, find out which features are already available and which can be easily implemented. Automated content export and import is an absolute must. It is also important to use proper content structure for different languages, so that search engines index all subpages in all language versions. Neglecting this might even result in some versions not being displayed in search results at all!
If your IT department aren't sure which features are necessary, we'd be happy to help.
Translation of an online store – a summary in 11 steps
Translating an online shop is not rocket science but it isn't a piece of cake either. Here are some steps you may want to follow: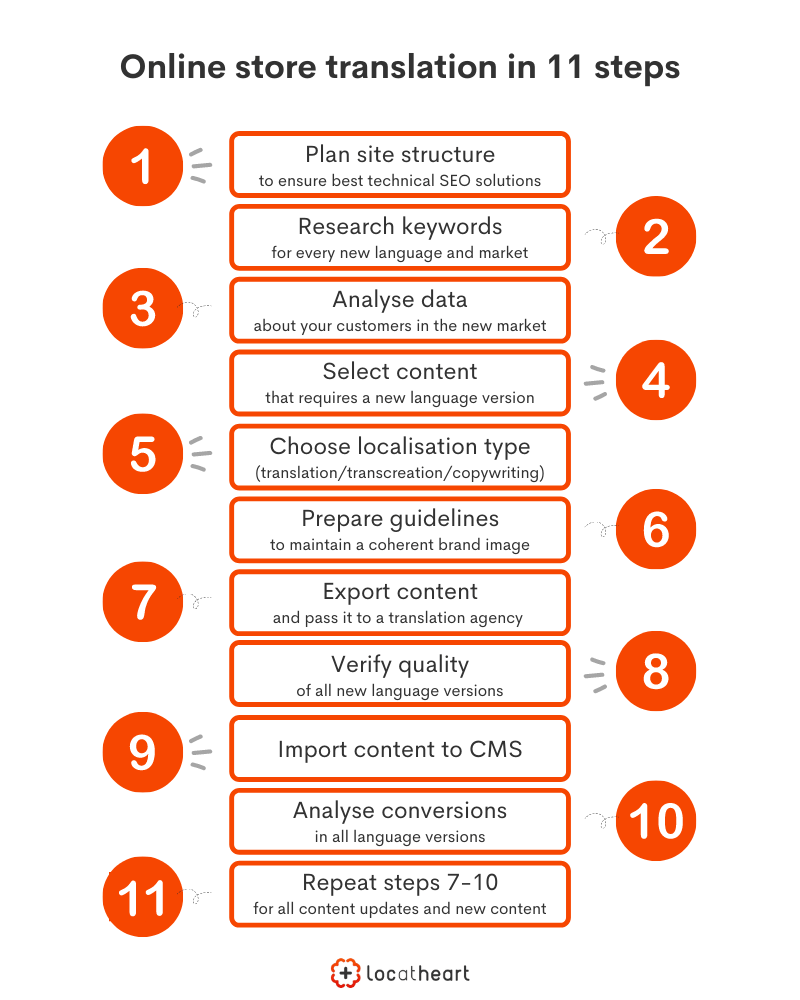 1. Together with an SEO specialist, plan for a structure of a multilingual site. If all language versions are in the same domain, they should be in separate directories. The structure will depend on the technology that your shop is based on.
2. Create keyword lists for every new market.
3. Analyse the data on your prospective customers. For each market, specify what types of content are expected (divide the content into mandatory, welcome and unnecessary).
4. Create a list of pieces of content that require new language versions.
5. Collaborate with a linguist to decide what content can be translated and in which cases a more significant adjustment is needed (due to cultural and/or legal differences).
6. Prepare linguistic guidelines – specify your voice and tones preferred for different contexts. This will make your communications coherent.
7. Export content and have an agency create new language versions.
8. Verify the new versions' quality (this can be done, for instance, by sample checks).
9. Import new language versions into the system prepared by the IT department or by your technology provider.
10. Track conversions. Bear in mind that lower conversion in a given market or for a specific segment of a website may be a result of linguistic issues, such as an unclear description or inconsistencies between descriptions and photos.
11. As you expand or change your assortment, repeat steps 7 through 10 of the process.